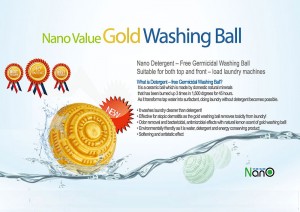 Nano Value Gold Washing Ball
Nano Detergent – Free Germicidal Washing Ball
Suitable for both top and front – load laundry machines
What is Detergent – free Germicidal Washing Ball?
It is a ceramic ball which is made by domestic natural minerals that has been burned up 3 times in 1,500 drgrees for 45 hours.
As it transforms tap water into surfactant, doing laundry without detergent becomes possible.

Features
· It washes laundry cleaner than detergent!
· Effective for atopic dermatitis as the gold washing ball removes toxicity from laundry!
· Odor removal and bactericidal, antimicrobial effects with natural lemon scent of gold washing ball!
· Environmentally friendly as it is water, detergent and energy conserving product
· Softening and antistatic effect

How to use Detergent-Free Germicidal Washing Ball?
Just put it in your washer!
How to use : Usual way as doing laundry, but place the detergent – free washing ball instead of synthetic detergent.
Leave the washing ball in the washer when soaking/rinsing/spinning.
(Except for 'drying', leave the washing ball all the time.)
Maintenance (hot to maintain) : For better functionality, shake it in warm water(40-60 degrees) and dry it in the sun for once a month,
if the fabric is badly stained, hand-wash it first for better effect.

Principle